I was on the webinar from Cisco about new certification "CCNP SP" month ago. One scheme from this webinar is pretty interesting.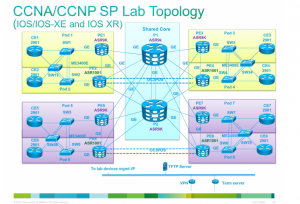 This is topology for CCNP SP lab. You can see it is using 6(!) ASR 9000, 4 ASR 1000 and a few small things.
I bet you will not find academy that really has this topology, cause it is very expensive. And I think all of us will prepare to exam only theory ;(
By the way, most popular question from guests to presenters on the webinar was "where I can find IOS XR emulator?"
And they have one answer. Nowhere. Sad, but true.